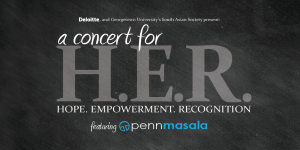 (click the image to purchase tickets)
Dear All,
TalentNomics has some exciting news to share with you. On Saturday, February 20th, Penn Masala, the world's first and premier Hindi a cappella group, will headline 'A Concert for HER', a fundraiser benefitting TalentNomics and PrathamUSA, at Georgetown University's historic Gaston Hall. Sponsored by Deloitte, and co-hosted with Georgetown's South Asian Society, 'A Concert for HER' will feature performances from the SAPAN Institute, NEEL, and Georgetown's own GU Jawani and GU Bindaas.
Formed in 1996 by students at the University of Pennsylvania, Penn Masala's music has been influenced by the Eastern and Western cultures that represent the group's membership, and draws inspiration from various musical traditions, including Bollywood music, pop, hip-hop, R&B, and Indian classical styles. Penn Masala fuses popular Hindi and English songs into an a cappella rendition that is all their own. The group also uses a wide variety of languages in their songs; while their compositions are primarily sung in English or Hindi, certain songs include Arabic, Punjabi, Kannada and Tamil as well. The group also had a cameo role in Pitch Perfect 2, released in May 2015. The soundtrack for the movie included Penn Masala's Hindi version of "Any Way You Want It", and won the award for Best Soundtrack at the American Music Awards in 2015. In 2012, the group was named one of the five best college a cappella groups in the United States by USA Today, and has performed around the world for audiences including President Barack Obama, Secretary General Ban Ki Moon and Former Secretary of State Henry Kissinger.
A Concert for HER is dedicated to developing and empowering women, and highlighting the incredible work of TalentNomics and PrathamUSA to inspire women and girls, and encourage the advancement of female leaders around the world. TalentNomics' mission is to reimagine leadership for modern workplaces, and global, interconnected economies by developing and leveraging women leaders' talents to their fullest potential. PrathamUSA believes that education is a fundamental right for every child, and that no child should ever be deprived of this basic right. All proceeds from the Concert for HER will benefit TalentNomics and PrathamUSA, which are both 501(c)(3) organizations.
We hope you will come with your family and friends and spread the word about this wonderful event to your network. The link to purchase tickets is included below, and a flyer for the event is attached. Your support and participation is much appreciated, and we are looking forward to a fun evening for a great cause.
warm regards,
TalentNomics