DEI in the workplace
By Trisha Pray, TalentNomics
What is DEI and why does it matter?
DEI stands for diversity, equity, and inclusion. Diversity is the presence of differences in any given setting. In a workplace, it can mean differences in gender, race, ethnicity, sexual orientation, age, and nationality, to name a few. Equity ensures proceedings that are impartial, fair, and allow for equal potential outcomes for each individual. Inclusion establishes a sense of belonging for the employees in a workplace. DEI is central in creating and sustaining a successful workplace driven by an ethos that encourages every individual to thrive; personally and professionally. It allows innovation and talent to shine without discriminatory hindrances.
Purely from a business standpoint, diversity directly contributes to a higher level of innovation, in thinking and practice, and thereby, greater outcomes. Equity is essential to building diversity. It levels the playing field and ensures that requirements to entry are the same for each individual, opening up the talent pool to qualified applicants. Inclusion is key for the maintenance of diversity, working to prevent othering, tokenism, and code-switching.
According to a CNBC survey, nearly 80% of employees want to work at an organization where DEI is prioritized. Employees who believe their company is not doing enough to further diversity and inclusion have a Workforce Happiness Index score of 63, distinctly lower than the average score of 72. Josh Bersin, a well-respected HR professional, conducted a research study that showed only 32% of organizations have mandatory DEI training for employees. Given the gap between the aforementioned 80% and this number, this is an issue that needs to be actively tackled.
McKinsey's 2019 analysis found that companies in the top quartile for gender diversity on executive teams were 25% more likely to make above-average profit gains than companies in the fourth quartile. On looking at ethnic and cultural diversity, the data is equally compelling.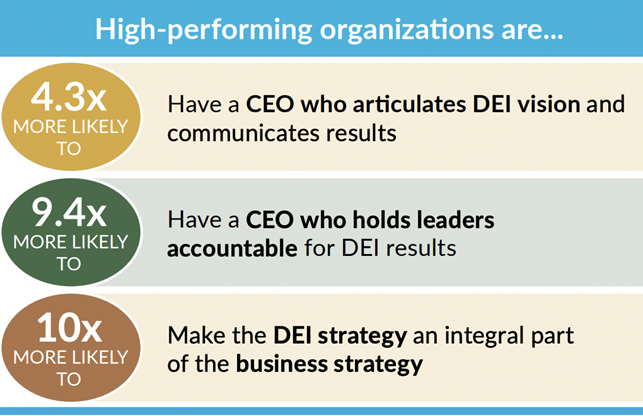 The importance of gender-based equality in the workplace
After a year and a half of living and working through the pandemic, women are increasingly more burned out at higher rates than men. Job satisfaction is low, with promotions consistently harder to reach for women. In line with The Great Resignation, women are leaving the workforce in record numbers. A McKinsey report on 'Women in the Workplace states that one in three women have considered downshifting their careers or simply leaving the workforce for the year.
Despite this, women are at the fore of DEI efforts in the workplace. According to the report mentioned above, senior-level women are twice as likely to take on DEI work that falls outside their formal job responsibilities than senior-level men. They take more initiative than men in similar positions to create supportive environments. They also consistently show up as 'active allies' to women of color. If women continue to leave the workplace, companies could lose their greatest DEI allies.
A top-down approach is one solution to bring DEI to the fore of an organization's agenda. Here, social responsibility initiatives, zero-tolerance policies, culture-change mindsets, and leadership training can be utilized to create a better workplace. Tying diversity to business goals is another part of this approach. Companies like American Express, Microsoft, Intel, and Verizon have tied bonuses and compensation to diversity-driven goals. Certain metrics need to be put in place to measure the progress made and support of DEI goals must be recognized and rewarded.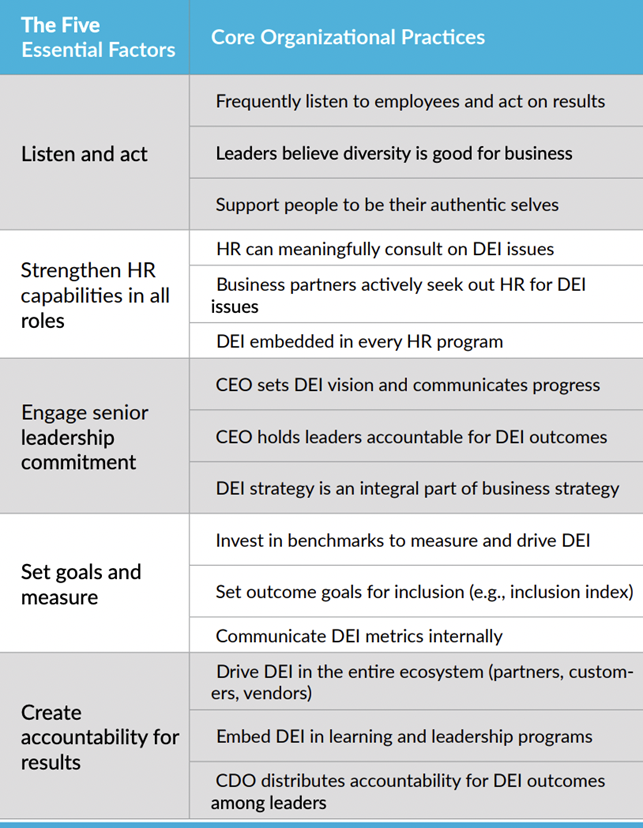 TalentNomics
TalentNomics is an organization that closely aligns with these priorities. It focuses on the expansion of women's roles in leadership. This nonprofit is geared towards developing and strengthening the talent of working women while doing away with the gender gap in leadership and compensation.
Emphasis is placed on comprehensive training and education to women in business to give them all the skills to succeed. Multi-faceted resources and leadership tools are provided to connect talented women across organizations worldwide. Through extensive analysis, TalentNomics works to create inclusive workplace cultures where 'gender-balanced leadership' thrives. In addition, the nonprofit also hosts a global awards program that celebrates champions of women's leadership across the world.
With the benefits of DEI, both at the employee and business level, and the emerging demand for inclusivity in the workforce, it seems inevitable and important for organizations to adopt long-term.